Advanced LASIK Technology in Portland, OR
VISX STAR S4 EXCIMER LASER SYSTEM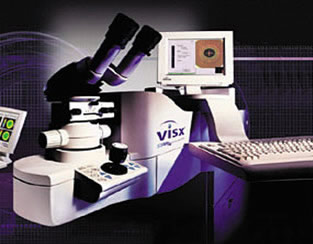 People all over the world place their confidence in the safety and precision of VISX technology. VISX excimer lasers have been used to successfully treat millions of eyes in the U.S. and around the world.
This laser features variable spot beam technology and an eye tracking system that actively follows the tiniest motions of your eye in all three dimensions, capturing more than 99.4 percent of eye movement.
It tracks your natural pupil and doesn't require your eye to be dilated like other laser systems, so you can relax during your LASIK treatment knowing the procedure will be delivered accurately. The VISX CustomVue is an individualized laser vision correction procedure that is Wavescan driven. This enables Dr. Crews to measure and correct imperfections that are unique to each individual's vision that could not have been measured before. Wavescan technology was originally developed for use in high-powered telescopes to reduce an individual's eye 25 times more precisely than standard methods used for glasses and contact lenses.
NIDEK EC-5000 EXCIMER LASER SYSTEM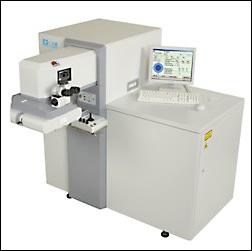 NIDEK EC 5000 excimer laser system for the treatment of LASIK is an FDA approved laser that can treat nearsightedness, farsightedness, and astigmatism. It is equipped with one of the most advanced eye-tracking technologies in the vision correction field.
Its 60Hz infrared eye-tracking technology follows and responds to tiny eye movements within 5/1000th of a second. This in turn translates into an incredibly smooth corneal treatment surface and faster patient recovery. NIDEK is approved by the FDA for a wide range of nearsighted, astigmatic, and farsighted LASIK corrections.
Its sequential treatment of astigmatism and nearsightedness ensures wide treatment zones, optimizing day and night-time quality of vision. NIDEK's extra-quite, accurate and rapid treatment minimizes patient anxiety during the treatment, and ensures quickest recovery.

The NIDEK EC-5000 Excimer Laser System has been approved for use in the United States to perform LASIK for the correction of myopia, hyperopia and astigmatism. Nidek Corporation is one of the largest eye care companies in the world and makes a variety of ophthalmic equipment. If you are interested in LASIK to reduce your dependence on lenses or eyeglasses. Are you interested in learning more about LASIK Eye Surgery in Portland, OR? Call us today